Since we have chickens, we always have lots of eggs and I'm always looking for ways to use them in my cooking. The kids are huge fans of "breakfast for dinner" meals, so tonight I made German Pancakes.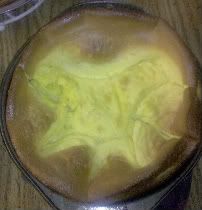 Ingredients
4 eggs
1/2 cup flour
1/2 teaspoon baking powder
1 Tablespoon sugar
pinch salt
1 cup milk
1 teaspoon vanilla
2 Tablespoons melted butter
Optional Mix-ins
1 can apple pie filling
Ground sausage, with or without cheese
Chocolate Chips
Strawberries
Bananas
Directions
Blend eggs, flour, baking poweder, sugar and salt in standing mixer. Slowly add milk, then vanilla and melted butter. Let sit for an hour, or overnight (in the refridgerator).
Preheat oven to 425.
In 10inch pan, spray inside and sides completely with non-stick spray. Place pie or other fillings in pan (or you can use 2 8" pie or cake pans). Pour batter over. Bake for 15 minutes in the preheated oven. Reduce temperature to 375, bake for 10 more minutes.
Remove from oven, slide onto place, slice and serve warm!
*Notes*
I have teenage boys in my house, and this recipe, which says it serves 4, will maybe serve 2. If you're lucky. So, for a family of 6 I tripled this recipe, then used four 8" pie pans. I would take a measuring cup and distribute out the batter evenly to balance it out. With all 4 in the oven, I cooked it 5 minutes extra with each temperature.