The best part about these meals is that everyone gets exactly what they want. They're great for camping, or can be done at home as well.
Basic Ingredients
Meat
Hamburger patty
Chicken strips
Round steak
Steak, cut into strips
Summer or Polish sausages
Whatever tickles your fancy
Veggies
Thin cut potatoes
Diced onion
Sliced carrots
Zucchini
Broccoli
Pea pods
Peppers
Mushrooms
whatever is fresh from your garden
Seasonings
ANY!
Cream of chicken or mushroom soup
lipton onion soup mix
lemon pepper
seasoning salt
etc
Butter
Take two 12" pieces of tin foil. I place them crossways one over the other. Place potatoes on foil, then layer meat with veggies, seasonings and a couple pats of butter. Place in coals, or oven at 350 for 40-60 minutes. Enjoy!
Here's how I did it tonight:
Had young lad dig a hole for fire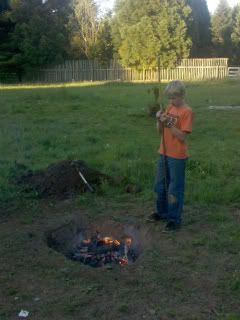 Making their dinners:
Look! A happy face! Oh, wait - we weren't supposed to play with our food?
Forgot a pic of it all in the fire, but here we are opening them up to enjoy!